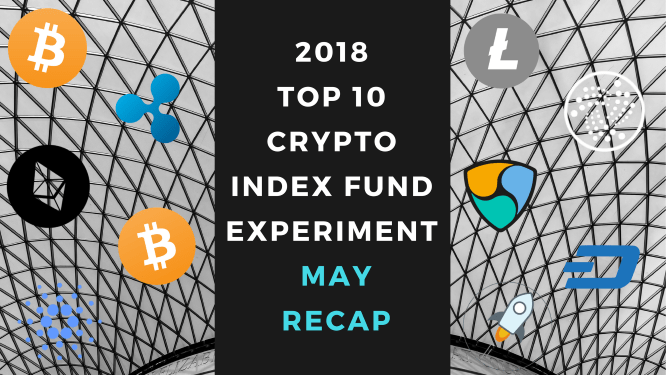 This article contains affiliate links. If you click on a link in this article, I may earn a small commission at no extra cost to you.
Recommended Storage:
For crypto storage, my recommended hardware wallet is the Ledger Nano X.
Recommended Exchange:
On solid financial footing and ready to purchase crypto? My recommended exchange is Binance.
Get up to $59 of FREE COMP with Coinbase Earn

AND Get up to $50 of FREE XLM with Coinbase Earn


Considering getting into cryptocurrencies?
Be prepared for a wild ride.
In fact, I recommend getting your financial house in order first.
Month Twenty-Nine – Down 79%

While not quite as strong as April, May was undeniably a strong month overall, especially with the last minute push that saw Bitcoin climb over the $10k mark. Although BTC (and the market overall) has fallen in the last few days while I've been compiling these updates, we saw almost every 2018 Top Ten crypto end the month of May higher than where it started.
---
Question of the month:
A) One
B) Three
C) Five
D) None of the above
Scroll down for the answer.
---
Ranking and May Winners and Losers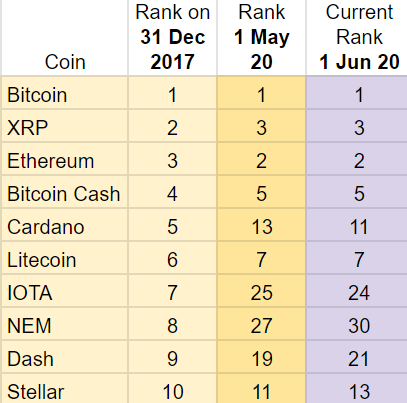 Half of our 2018 Top Ten group were on the move in May. Cardano made the most upward progress, climbing two positions to #11. IOTA rose one spot in the standings to #24 as well. On the other side, NEM keeps slipping, losing three spots to #30. Dash and Stellar also dropped two positions each in May.
The overall drop out rate remains at the 50% mark (meaning half of the cryptos that started 2018 in the Top Ten have dropped out). NEM, Dash, IOTA, Cardano, and Stellar have been replaced by EOS, Binance Coin, Tezos, Tether, and BSV.
May Winners – Massive month for ADA, up an impressive +62%. That's about what Cardano gained last month, so, yeah, Cardano is having a great spring. IOTA also had a solid month, up +28%.
May Losers – XRP lost about -4% making it the worst performing of this group in May.
How has your favorite crypto fared over the first 29 months of the 2018 Top Ten Crypto Index Fund Experiment? Most monthly wins (7): Bitcoin. Most monthly losses (5) is a now tie between Stellar and NEM. All cryptos have at least one monthly win and Bitcoin stands alone as the only crypto that hasn't lost a month (although it came close in January 2020 when it gained "only" +31%).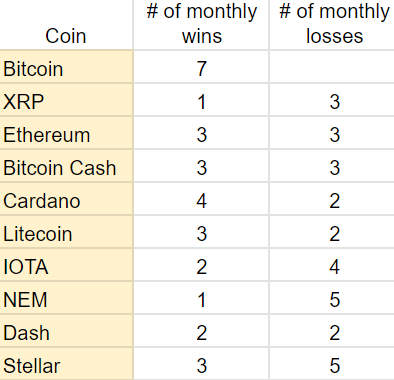 Overall update – BTC still way ahead, ETH firmly in second place, NEM worst performing.
Bitcoin made up more ground in May, now down -23% since January 2018. The last time we saw this price level to end a month was August 2019. The initial $100 investment is now worth about $77.
BTC is still well ahead of the field and Ethereum is firmly in second place. This may feel like a foregone conclusion at this point, but for context, long time 2018 Top Ten Experiment followers will note that this has not always been the case. Just a little over a year ago for example, BTC was second place behind Stellar.
NEM (down -95%) is in last place. That initial $100 investment in NEM? Now worth $4.74.
Total Market Cap for the entire cryptocurrency sector: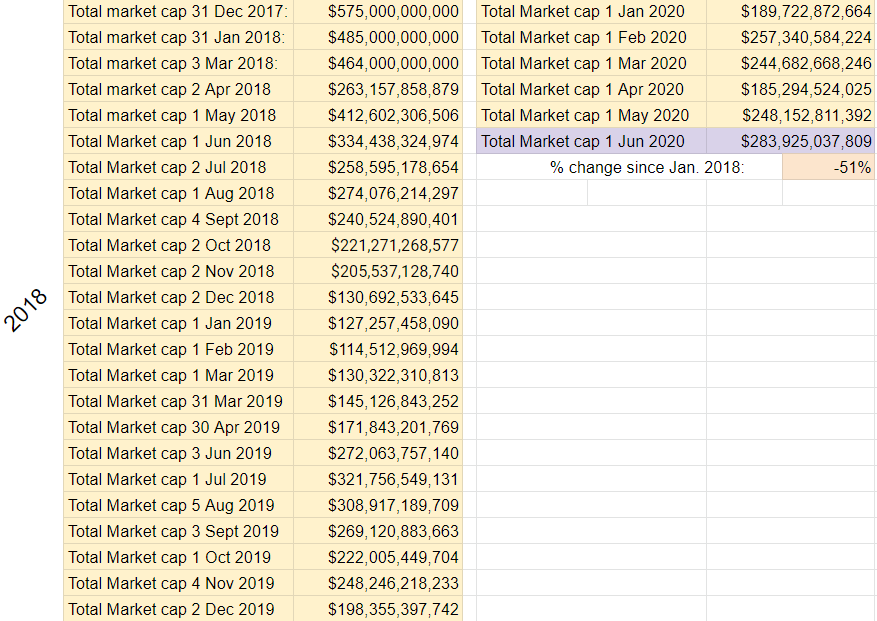 The overall crypto market added about $35B in May 2020, back near August 2019 levels. This is down about half from January 2018 when the market was worth roughly $575B.
Bitcoin dominance: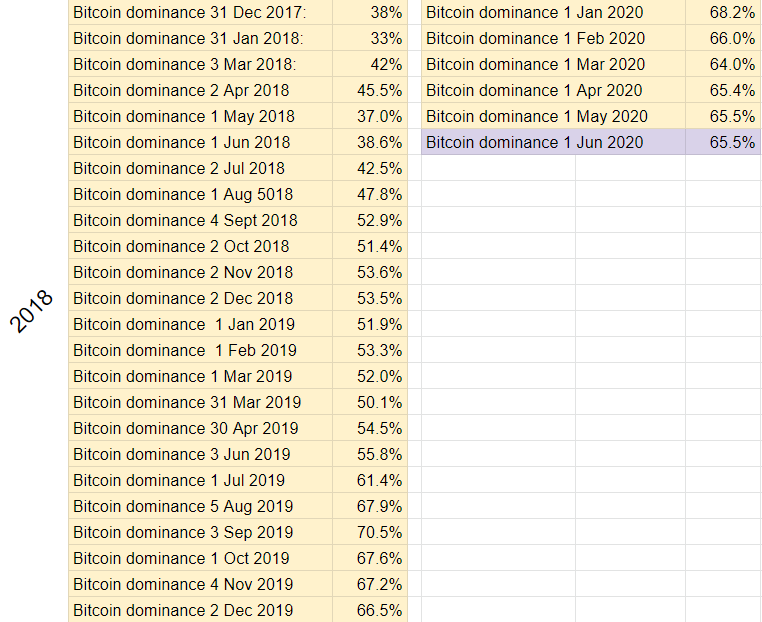 Another flat month for Bitcoin dominance, which hasn't moved at all in the last three months.
For context, the range since the beginning of the experiment in January 2018 has been wide: a high of 70% BitDom in September 2019 and a low of 33% BitDom in February 2018.
Overall return on investment since January 1st, 2018:

The 2018 Top Ten Portfolio gained about $20 bucks in May 2020, back near where it was at the end of February. If I cashed out today, my $1000 initial investment would return about $205, down -79% from January 2018.
Here's the ROI over the life of the experiment, month by month:

The streak of nine consecutive months down at least -80% was finally broken in May. Just barely (at -79%), but hey, I'll take it. July 2019 was the last time the 2018 Top Ten finished a month in the negative seventies. What about the negative sixties? That level hasn't been seen in about two years.
Painful stuff. What about the follow on Experiments? Let's see:
So overall? Taking the three portfolios together, here's the bottom bottom bottom line:
After a $3000 investment in the 2018, 2019, and 2020 Top Ten Cryptocurrencies, my portfolios are worth $3,104‬.
That's up about +3.5% for the combined portfolios. Better than a few months ago (aka the zombie apocalypse) where it was down -24%, but not yet back at January (+13%) or February (+6%) levels.
Comparison to S&P 500:
I'm also tracking the S&P 500 as part of the experiment to have a comparison point with other popular investments options. The stock market (as measured by the S&P) continued to recover in May. It's pretty amazing with all that's going on in the world, but the market is already back up where it was in February 2020. The initial $1k investment into crypto on New Year's Day 2018 would have gained about $140 had it been redirected to the S&P.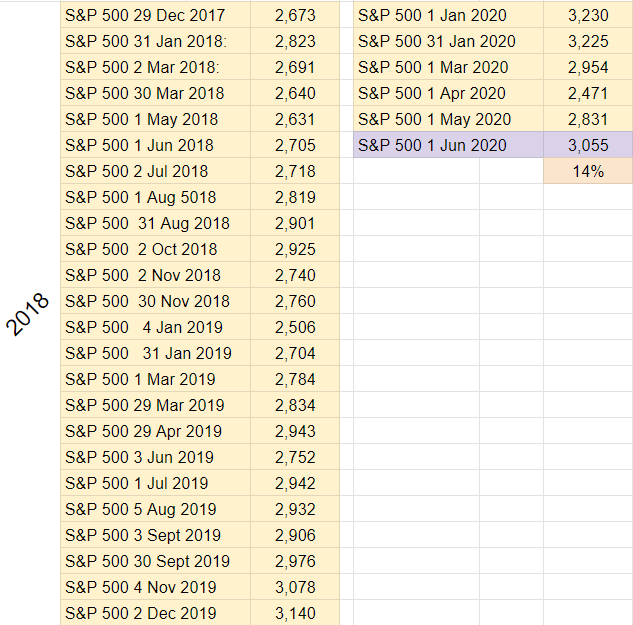 This is where it gets interesting. Taking the same drop-$1,000-per-year-on-January-1st approach with the S&P 500 that I've been documenting through the Top Ten Crypto Experiments would yield the following:
$1000 investment in S&P 500 on January 1st, 2018: +$140
$1000 investment in S&P 500 on January 1st, 2019: +$220
$1000 investment in S&P 500 on January 1st, 2020: -$50
Taken together, here's the bottom bottom bottom line for a similar approach with the S&P:
After three $1,000 investments into an S&P 500 index fund in January 2018, 2019, and 2020, my portfolio would be worth $3,310.
That is up over+10% since January 2018, compared to the $3,104 value (+3.5%) of the combined Top Ten Crypto Experiment Portfolios.
That's about a 7% difference in favor of the stock market. Last month, there was only a 3% difference. The month before, the gap was 13%.
Implications/Observations:
No news here: the 2018 Experiment's focus of solely holding the Top Ten Cryptos has not and has never been a winning approach when compared to the overall market. The total market cap is down -51% from January 2018 compared to the -79% for the cryptos that began 2018 in the Top Ten. This of course implies that I would have done a bit better if I'd picked different cryptos – but much better than if I'd put all my eggs in NEM's -95% basket, for example. To reiterate, at no point in this experiment has this investment strategy been successful: the initial 2018 Top Ten have under-performed each of the twenty-nine months compared to the market overall.
In the following two Top Ten experiments, it's a slightly different story. There are a few examples of this approach outperforming the overall market in the parallel 2019 Top Ten Crypto Experiment. For the most recent 2020 group, this approach had outperformed the overall market 100% of the time…until this month.
Conclusion:
The Bitcoin halving turned out to be a non event and markets continue to steadily rise despite riots in the US and a global pandemic. We're almost half way through a very strange year. As the world changes, what will crypto's place be in the new normal?
Final word: Please take care of yourselves, your families, and your communities. Be excellent to each other.
Thanks for reading and for supporting the experiment. I hope you've found it helpful. I continue to be committed to seeing this process through and reporting along the way. Feel free to reach out with any questions and stay tuned for progress reports. Keep an eye out for my parallel projects where I repeat the experiment twice, purchasing another $1000 ($100 each) of two new sets of Top Ten cryptos as of January 1st, 2019 then again on January 1st, 2020.
---
And the Answer is…
B) Three
Bitcoin's third halving event took place May 2020.
---
Help keep the lights on at the Top Ten Crypto Index Fund Experiments.
Donate directly:
Bitcoin: 1Pwz1gABZd2jkfFrjSZbJmD3te3dFYjhJo
Ripple: rEVxyudxYfPDFiV9qVZU8m7v2w9vwc4UCj
Ethereum: 0xf1df4ae19e80dd195ac67281598d84C4D6df029f