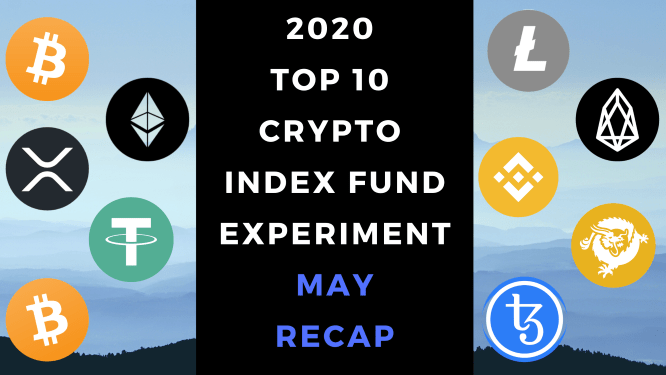 This article contains affiliate links. If you click on a link in this article, I may earn a small commission at no extra cost to you.
Recommended Storage:
For crypto storage, my recommended hardware wallet is the Ledger Nano X.
Recommended Exchange:
On solid financial footing and ready to purchase crypto? My recommended exchange is Binance.
Get up to $59 of FREE COMP with Coinbase Earn

AND Get up to $50 of FREE XLM with Coinbase Earn


Considering getting into cryptocurrencies?
Be prepared for a wild ride.
In fact, I recommend getting your financial house in order first.
Month Five – UP 47%

Welcome to the best performing of the Top Ten "Index Fund" Experiments for the fourth straight month. This month wasn't quite as strong as the all-green April, but thanks to solid late May BTC and ETH gains the portfolio has now added +47% since January 1st, 2020.
---
Question of the month:
In May, Harry Potter author J.K. Rowling joked that she was a holder of what 2020 Top Ten Crypto Experiment currency?
A) Bitcoin
B) Tether
C) EOS
D) Ethereum
Scroll down for the answer.
---
Ranking and May Winners and Losers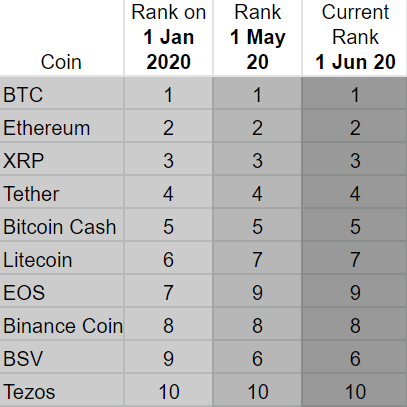 Zero movement. Super weird for the ever changing cryptocurrency space.
May Winners – Ethereum is having a good spring: it followed up last month's +57% gain with a +16% in May. BTC came in a close second this month, up +14%.
May Losers – BSV under-performed its peers, finishing down -3.9% this month. Second worst was XRP, down -3.7% in May.
For those keeping score, I also keep a tally of which coins have the most monthly wins and losses. After five months, we're starting to see some patterns emerge: both BSV and Tether have two losses each and Tezos is the only crypto with two monthly wins.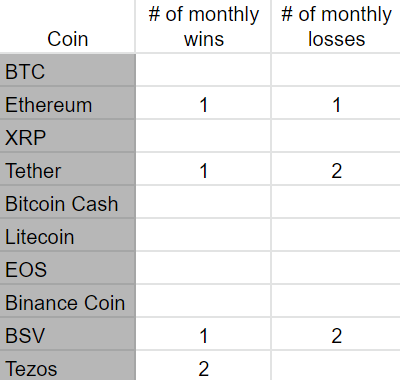 Overall update – Tezos increases lead over second place BSV and 100% of Top Ten are in positive territory.
Tezos (+131%) increased its lead over second place BSV (+107%) this month. Third comes Ethereum (+93%) and then Bitcoin (+40%) a distant fourth place. Not counting Tether, the worst performing crypto is now XRP (although it is still up +11% since January 2020).
Total Market Cap for the entire cryptocurrency sector:

The overall crypto market added about $35B in May 2020 and is now close to where it was in August 2019. It is up +50% since the beginning this year's experiment in January 2020.
Bitcoin dominance:

Steady as she goes, Bitcoin dominance hasn't budged in the last three months and hasn't really made any significant moves all year.
Overall return on investment since January 1st, 2020:

After an initial $1000 investment, the 2020 Top Ten Portfolio is now worth $1,467, up about +47%. It is the best performing Top Ten Crypto Portfolio out of the three.
Here's the month by month ROI of the 2020 Top Ten Experiment, hopefully helpful to maintain perspective and provide an overview as we go along: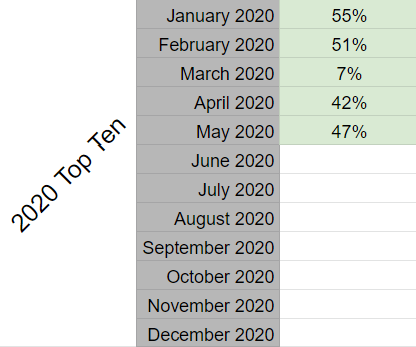 Besides the zombie apocalypse blip in March, so far so good: all green is good to see and a nice change from the all red table you'll see in the 2018 experiment. The range of monthly ROI for the 2020 Top Ten has been between +7% and +55%.
So, how does the 2020 Top Ten Experiment compare to the parallel projects?
Taken together, here's the bottom bottom bottom line:
After a $3000 investment in the 2018, 2019, and 2020 Top Ten Cryptocurrencies, my portfolios are worth $3,104‬.
That's up about +3.5% for the combined portfolios.
Better than a few months ago (aka the zombie apocalypse) where it was down -24%, but not yet back at January (+13%) or February (+6%) levels.
So that's the Top Ten Crypto Index Fund Experiments snapshot. Let's take a look at how traditional markets are doing.
Comparison to S&P 500
I'm also tracking the S&P 500 as part of my experiment to have a comparison point with other popular investments options. Even with COVID and riots in the US, stocks continued to rebound in May, now down -5% since the beginning of the year.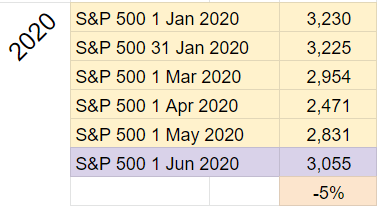 Over the same time period, the 2020 Top Ten Crypto Portfolio is returning about +47%, the initial $1k investment now worth about $1,467.
The money I put into crypto in January 2020 would now be worth $950 had it been redirected to the S&P 500. That's a $517 swing on an initial $1,000 investment.
And what if I invested in the S&P 500 the same way I did during the first three years of the Top Ten Crypto Index Fund Experiments? This world's slowest dollar cost averaging/$1k on January 1st approach? Here are the figures:
$1000 investment in S&P 500 on January 1st, 2018: +$140
$1000 investment in S&P 500 on January 1st, 2019: +$220
$1000 investment in S&P 500 on January 1st, 2020: -$50
Taken together, here's the bottom bottom bottom line for a similar approach with the S&P:
After three $1,000 investments into an S&P 500 index fund in January 2018, 2019, and 2020, my portfolio would be worth $3,310.
$3,310 is up over +10% since January 2018, compared to the $3,104 value (+3.5%) of the combined Top Ten Crypto Experiment Portfolios.
That's about a +7% edge in favor of the stock market. Last month it was a bit closer, only a 3% difference. The month before, the gap was 13% in favor of the stock market.
Implications/Observations:
The crypto market as a whole is up +50% since the beginning of the year compared to the 2020 Top Ten cryptos which have gained +47%. For the first time since the Top Ten 2020 began, the cryptos in this group have under-performed the overall market. This breaks a four month streak where the opposite was true.
Focusing on the Top Ten has been a solid approach in 2020, but it has not worked so well in the other experiment years. Although there are a few examples of the Top Ten strategy outperforming the overall market in the 2019 Top Ten Experiment, it's interesting to note at no point in the first twenty-nine months of the Top Ten 2018 Experiment has the approach of focusing on the Top Ten cryptos outperformed the overall market. Not even once.
Conclusion:
The Bitcoin halving turned out to be a non event and traditional markets continue to steadily rise despite riots in the US and a global pandemic. 2020 has been an extremely volatile year and we still have a long way to go. What do all these changes mean for crypto?
Final word: Please take care of yourselves, your families, and be excellent to each other.
Thanks for reading and for supporting the experiment. I hope you've found it helpful. I continue to be committed to seeing this process through and reporting along the way. Feel free to reach out with any questions and stay tuned for progress reports. Keep an eye out for the original 2018 Top Ten Crypto Index Fund Experiment and the 2019 Top Ten Experiment follow up experiment.
---
And the Answer is…
D) Ethereum
J.K. Rowling managed to troll both the BTC and ETH communities with her May 18th tweet claiming she had "significant Ethereum holdings."
---
Help keep the lights on at the Top Ten Crypto Index Fund Experiments.
Donate directly:
Bitcoin: bc1qqy4tlwydyrm3sjpyyq88es0cu9j9mdvqer3gwv
Ethereum: 0xC04Bc1996320f27c0A6018cB370c9469a9Dd3a4C
ADA: addr1qywnu55t8hpk4c3jf63tj5xywzej0uhwh7yput4u2z3fq7qa8efgk0wrdt3ryn4zh9gvgu9nylewa0ugrchtc59zjpuqlj6stg
XLM: GA5GJ2JDWC3GB3YXEVRBSR7UBLIB2ROIWZ5FEHML5WXGY5N3PAIDEOEA