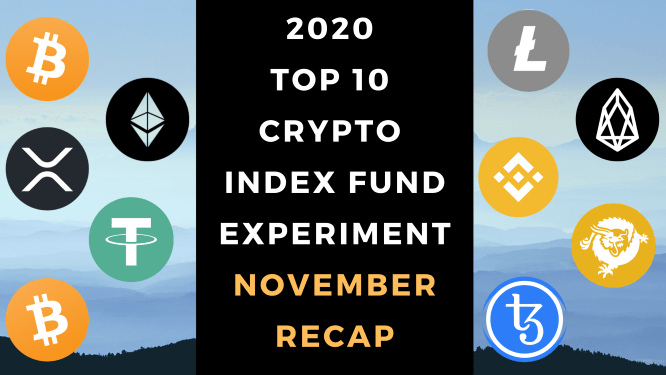 This article contains affiliate links. If you click on a link in this article, I may earn a small commission at no extra cost to you.
Recommended Storage:
For crypto storage, my recommended hardware wallet is the Ledger Nano X.
Recommended Exchange:
On solid financial footing and ready to purchase crypto? My recommended exchange is Binance.
Get up to $59 of FREE COMP with Coinbase Earn

AND Get up to $50 of FREE XLM with Coinbase Earn


Considering getting into cryptocurrencies?
Be prepared for a wild ride.
In fact, I recommend getting your financial house in order first.
Month Eleven – UP 129%
Although not quite as strong as the 2019 Group, the 2020 Top Ten had a very solid November. Led by the long slumbering XRP (which had its best month in recent history and best month since the Experiments started three years ago), the 2020 Top Ten cryptos are now all back in the green after EOS made a brief visit to the red last month.
---
Question of the month:
In November, these two South American countries got their own stablecoins:
A) Argentina and Brazil
B) Brazil and Chile
C) Bolivia and Peru
D) Peru and Chile
Scroll down for the answer.
---
Ranking and November Winners and Losers
More cryptos lost ground than gained it this month. Tether, BSV, and BCH all dropped one position while Binance Coin struggled:  it fell three places in the rankings and is now teetering on the edge of the Top Ten with one month to go in the year.  No pressure BNB, but if you're not in the Top Ten on January 1st, 2021, you don't get to be included in next year's experiment.   
Heading in a positive direction this month were XRP and Tezos, each picking up one place in the rankings.  November's biggest mover was Litecoin, which picked up three spots and now rests at #5.  Quite a recovery in the last few months, as LTC was #12 just two months ago.
Drop outs: after eleven months of tracking, 30% of the cryptos that started 2020 in the Top Ten have dropped out. BSV, EOS, and Tezos have been replaced by ADA, LINK, and most recently, DOT.
November Winners – Although every crypto finished the month in the green, XRP left the rest of the field in the dust, finishing November +175%. Litecoin finished a distant second place, up +59%.
November Losers – No offense meant, but always satisfying when the monthly updates can report that Tether underperformed the pack. Besides USDT, the +9% that Binance Coin gained in November was nowhere near enough to keep up with its peers. As mentioned above, it slipped three places in the rankings and was the second worst performing coin this month.
Since there's not enough division in this world already, let's pit these cryptos against each other, shall we? Here's a table showing which cryptos have the most monthly wins and losses eleven months into the 2020 Top Ten Crypto Index Fund Experiment:
ETH is still in the lead with three monthly wins, followed by Tether and Tezos with two Ws each. BSV and Tether are now tied with the most monthly losses at four each.
Overall update – Top Three lead the way, EOS lags, 100% of cryptos in the green.
The cryptos that began 2020 in the Top Three have solidified their positions and pulled away from the rest of the field in November.
With a +374% return so far this year, Ethereum remains firmly in the lead. Thanks to a blockbuster month, XRP has catapulted into second place +248% since January 1st, 2020. Third place at this point in the Experiment is BTC, up +170%.
Besides Tether, EOS is the worst performing cryptocurrency of the 2020 Top Ten Portfolio so far (although its +30% is much better than the stock market – see below for much more on that).
100% of the 2020 Top Ten Index Fund Experiment cryptos are in positive territory.
Total Market Cap for the cryptocurrency sector:
Taking a wider look, November was an unquestionably strong month for the cryptosphere.  The overall market cap gained $182B and is now up over 200% from January 2020.  The market cap vaulted over the psychologically significant $500B mark and now rests at the highest month-end level since the 2020 Top Ten Experiment began 11 months ago.
Bitcoin dominance:
BitDom slipped a touch in November, nothing to write home about. If you're new to the space, keep an eye on this number: a high BitDom signals less of an appetite for altcoins and vice versa.
Does anyone else chuckle when reading "BitDom" or just me? 
Just me then?  Okay, just me.
For context, the BitDom range since the beginning of the experiment in January 2020 has been roughly between 57% and 68%.
Overall return on investment since January 1st, 2020:
After an initial $1000 investment on January 1st, the 2020 Top Ten Portfolio is now worth $2,287, up +129%. After leading most of the year, the 2020 group has fallen behind the 2019 Top Ten Portfolio's +143% which is now the best performing of the three Experiments. More on that below.
Here's the month by month ROI of the 2020 Top Ten Experiment, hopefully helpful to maintain perspective and provide an overview as we go along:
+129% is the highest monthly ROI so far for what's turning out to be a strong year for the 2020 Top Ten, at least at this point in the Experiment.
The range of monthly ROI for the 2020 Top Ten has been between a low of +7% in March and high of +129% in November with one month to go in 2020.
So, how does the 2020 Top Ten Experiment compare to the parallel projects?
Taken together, here's the bottom bottom bottom line for the three portfolios:
After a $3000 investment in the 2018, 2019, and 2020 Top Ten Cryptocurrencies, my combined portfolios are worth $‭5,154‬ ($435+ $2,432 +$2,287).
That's up about +72% for the three combined portfolios, compared to +18% just last month.
Lost in the numbers? Here's a table to help visualize the progress of the combined portfolios:
That's a +72% gain by buying $1k of the cryptos that happened to be in the Top Ten on January 1st, 2018, 2019, and 2020.
But what if I'd gone all in on only one Top Ten crypto for the past three years? While many have come and gone over the life of the experiment, five cryptos have started in Top Ten for all three years: BTC, ETH, XRP, BCH, and LTC. Let's take a look:
At this point in the Experiments, it's Ethereum slightly ahead of Bitcoin. This slow dollar cost averaging approach of putting $1k in ETH once a year would have yielded over $10k over the last three years.
After such a strong November, each of the cryptos in the Three Year Club have returns in the green, although BCH is significantly behind the rest at +19%. Special mention this month goes out to XRP, which just last month was at -32% on this table. After one good month, it's +88%. That's how quickly the situation can change in crypto.
So that's the Top Ten Crypto Index Fund Experiments snapshot. Let's take a look at how traditional markets are doing.
Comparison to S&P 500
I'm also tracking the S&P 500 as part of my experiment to have a comparison point to traditional markets. The S&P also had a strong month, reaching new all time highs. With a solid November, year to date the S&P has returned +12% .
Overall, not too bad at all. This overachieves the 8% that financial planners use for predicted annual market returns and is quite positive considering 2020 was such an unpredictable year. Scroll up for how it compares to crypto, or let me just make it easy for you: over the same time period, the 2020 Top Ten Crypto Portfolio is returning about +129%. The initial $1k investment in crypto is now worth about $2,287.
That same $1k I put into crypto in January 2020 would be worth $1120 had it been redirected to the S&P 500 instead.
That's a $‭1,167‬ difference on a $1k investment, by far the largest gap in favor of crypto all year.
But that's just 2020. What about in the longer term? What if I invested in the S&P 500 the same way I did during the first three years of the Top Ten Crypto Index Fund Experiments? What I like to call the world's slowest dollar cost averaging method? Here are the figures:
$1000 investment in S&P 500 on January 1st, 2018 = $1350 today
$1000 investment in S&P 500 on January 1st, 2019 = $1440 today
$1000 investment in S&P 500 on January 1st, 2020 = $1120 today
So, taken together, here's the bottom bottom bottom line for a similar approach with the S&P:
After three $1,000 investments into an S&P 500 index fund in January 2018, 2019, and 2020, my portfolio would be worth $3,910.
That $3,910 is up +30% since January 2018, compared to a +72% gain of the combined Top Ten Crypto Experiment Portfolios over the same period of time. You can also compare against five individual coins (BTC, ETH, XRP, BCH, and LTC) by using the table above if you want.
To help provide perspective, here's a quick look at the combined three year ROI for crypto vs. the S&P up to this point in 2020.
For those keeping track or unable to see the table above: that's seven monthly victories for the S&P vs. four monthly victories for crypto. The largest gap is now: a 42% difference in favor of crypto.
Crypto certainly seems to have some momentum: you may notice that every crypto victory has occurred in the second half of 2020.
Conclusion:
November was a massive month for crypto, led by some of the most established and well known currencies.  With only one month left in 2020, we're about to get some year-end answers.  Is crypto due for a pullback? How will returns compare traditional markets?  Will the newer coins make any year end moves?  And most importantly, which crypto will be crowned the Top Ten Crypto Index Portfolio Experiment champ?
Final words:  COVID is just getting worse, stay healthy and take care of yourselves out there.  And take care of each other too.
Thanks for reading and for supporting the experiment. I hope you've found it helpful. I continue to be committed to seeing this process through and reporting along the way. Feel free to reach out with any questions and stay tuned for progress reports. Keep an eye out for the original 2018 Top Ten Crypto Index Fund Experiment and the 2019 Top Ten Experiment follow up experiment.
---
And the Answer is…
D) Argentina and Brazil
According to a Decrypt article, Settle Network and Stellar partnered to create two stablecoins for these South American countries in November. The stablecoins should make remittances between Argentina and Brazil easier.
---
Help keep the lights on at the Top Ten Crypto Index Fund Experiments.
Donate directly:
Bitcoin: bc1qqy4tlwydyrm3sjpyyq88es0cu9j9mdvqer3gwv
Ethereum: 0xC04Bc1996320f27c0A6018cB370c9469a9Dd3a4C
ADA: addr1qywnu55t8hpk4c3jf63tj5xywzej0uhwh7yput4u2z3fq7qa8efgk0wrdt3ryn4zh9gvgu9nylewa0ugrchtc59zjpuqlj6stg
XLM: GA5GJ2JDWC3GB3YXEVRBSR7UBLIB2ROIWZ5FEHML5WXGY5N3PAIDEOEA