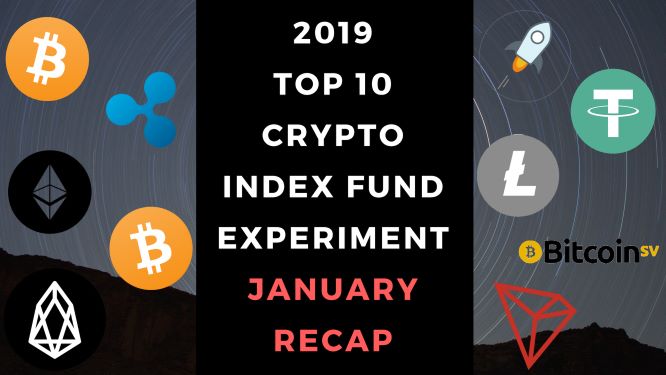 Month Thirteen – UP 63%

The new year brought new life to the crypto markets. After two down months to end 2019 at nearly the break even point (I was up only +2% after tracking these cryptos for one year) the 2019 Top Ten had a very strong January and now has gained +63% since January 2019.
Additionally, every crypto finished the first month of the year in the green, something this group hasn't achieved since October 2019.
Ranking and January Winners and Losers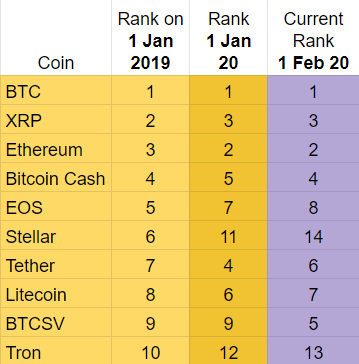 Seven of nine ten cryptos changed positions this month. BTCSV gained the most ground advancing four spots as Stellar headed in the opposite direction, down three places in January. The only cryptos to stay put were the top three: BTC, ETH, and XRP.
Stellar and Tron have dropped out of the 2019 Top Ten and have been replaced by Binance Coin and Cardano.
January Winners – Good month for the forks: BTCSV absolutely crushed its peers in January, up +193%. Bitcoin Cash finished in second place, up +87%.
January Losers – Tether picks up a loss, always a good sign for the rest of the 2019 Top Ten (no offense Tether). +24% wasn't enough for XRP to avoid being the second worst performing crypto in January.
For those keeping score, here is tally of which coins have the most monthly wins and loses during the first thirteen months of this experiment: Tether is still in the lead followed by BTCSV in second place. Bitcoin SV also holds the most monthly losses, finishing last in four out of thirteen months.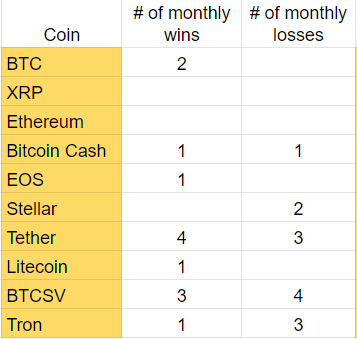 Overall update – Bitcoin falls behind BTCSV. Stellar and Ripple still worst performers.
Bitcoin, after ending 2019 with a significant lead over then second place Litecoin, has fallen behind BTCSV which ended the month up +194% since January 2019. Bitcoin is now in second place overall (up +147%) followed by Bitcoin Cash which is up +129%. My initial $100 investment in BTCSV is now worth $296.
40% of the 2019 Top Ten Cryptos are up over +100% at the moment: BTCSV, Bitcoin, Bitcoin Cash, and Litecoin,.
On the other side of the coin (see what I did there?) Stellar and XRP are taking a beating, down -47% and -33% respectively.
Total Market Cap for the entire cryptocurrency sector:

The crypto market gained over $67B in January 2020. The overall market cap is now back over $250B, a level last seen in September 2019. Bigger picture, the crypto market is up over +100% since the Experiment began in January 2019.
Bitcoin dominance: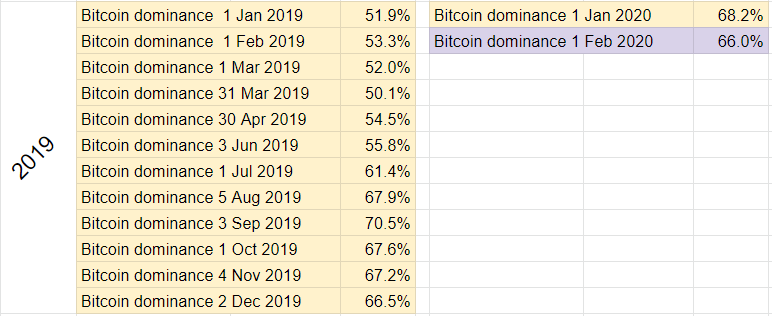 Bitcoin dominance dipped a few percentage points during the first month of 2020, an indicator that the strong January can be attributed more to altcoins than to Bitcoin.
Overall return on investment since January 1st, 2019:

The 2019 Top Ten Portfolio gained about $615 in January 2020. After an initial $1000 investment, the 2019 Top Ten Portfolio is worth $1,631, up about +63%.
Here's a look at the entire experiment, month by month: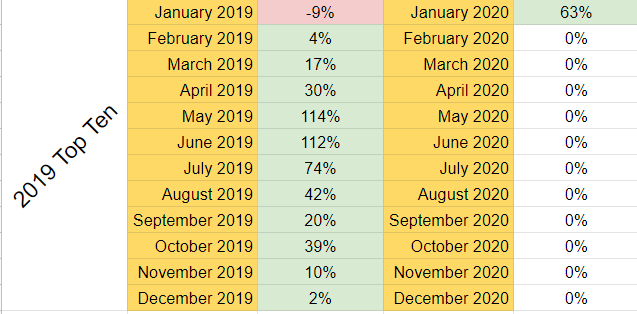 Every month except the first month (January 2019) is green.
How does the 2019 Top Ten Experiment compare to the parallel projects?
Taken together, here's the bottom bottom bottom line:
After a $3000 investment in the 2018, 2019, and 2020 Top Ten Cryptocurrencies, my portfolios are worth $3,382.
That's up about 12.7%.
Implications/Observations:
While the crypto market as a whole is up about +100% since January 2019, the 2019 Top Ten cryptos have gained just +63%.
This is reminiscent of the 2018 group as at no point in the first twenty-five months of the Top Ten 2018 Experiment has the approach of focusing on the Top Ten cryptos outperformed the overall market. There are a few examples, however, of this approach outperforming the market in the 2019 Top Ten Crypto Experiment and, spoiler alert, the first update of the 2020 Top Ten Crypto Experiment shows that focusing on the Top Ten was a good strategy in January 2020.
I'm also tracking the S&P 500 as part of my experiment to have a comparison point with other popular investments options. The S&P 500 is up +29% since the beginning of 2019. This is less than half the +63% gain that the 2019 Top Ten portfolio is returning.
So, the initial $1k investment I put into crypto would now be worth $1290 had it been redirected to the S&P 500 in January 2019.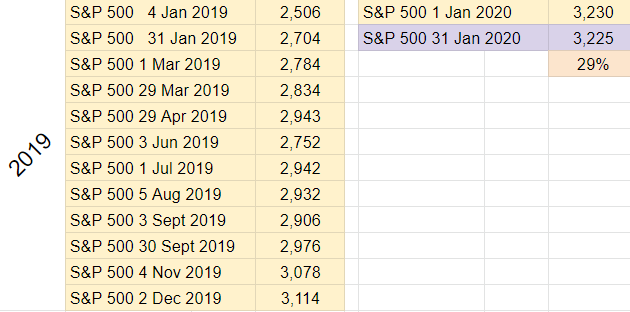 But what if I took the same world's-slowest-dollar-cost-averaging/$1,000-per-year-in-January approach with the S&P 500? It would yield the following:
$1000 investment in S&P 500 on January 1st, 2018: +$210
$1000 investment in S&P 500 on January 1st, 2019: +$290
$1000 investment in S&P 500 on January 1st, 2020: +$0
Taken together, here's the bottom bottom bottom line for the S&P:
After three $1,000 investments into an S&P 500 index fund in January 2018, 2019, and 2020, my portfolio would be worth $3,500.
That's up about +17% (compared to +12.7% with the Top Ten Crypto Experiments).
Conclusion:
It was a nice change to have such a strong start to 2020 – both 2018 and 2019 began with crypto in a downward trend. With the Bitcoin Halving only about 100 days away, we should be in for a wild first half of the year.
Thanks for reading and for supporting the experiment. I hope you've found it helpful. I continue to be committed to seeing this process through and reporting along the way. Feel free to reach out with any questions and stay tuned for progress reports. Keep an eye out for the original 2018 Top Ten Crypto Index Fund Experiment and the recently launched 2020 Top Ten Experiment.
**As part of Publish0x's Ambassador program, signing up using this link may provide me with a small benefit, at no cost to you (Publish0x is 100% free to use).
***As part of Coinbase's referral program, signing up using this link will result in us both receiving $10 worth of free Bitcoin after a purchase of $100 is made.