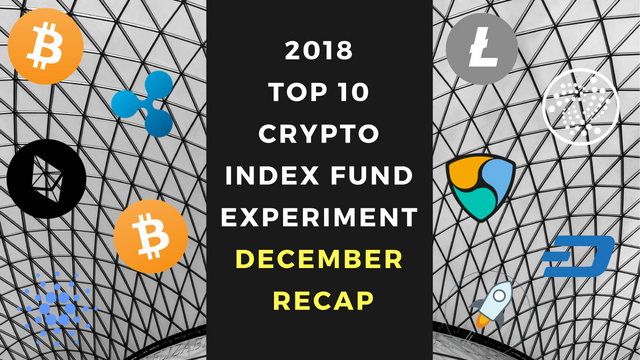 Month Twenty-Four and Two Year Tally – Down 86% since January 2018

Thought not quite as bad as November, December was a rough month in the cryptoverse: for the second straight month, each of the 2018 Top Ten cryptos ended 2019 in the red.
Finally tally after two years of this experiment? I am now down -86% on the 2018 Top Ten crypto portfolio since January 2018. My $1,000 investment on the 1st of January 2018 is now worth $136.
This isn't quite the record low: the 2018 Top Ten bottomed out at -88% in January of 2019.
The best month this year for this group of cryptos was June 2019, where this portfolio reached a -71% return on initial investment.
Ranking and December Winners and Losers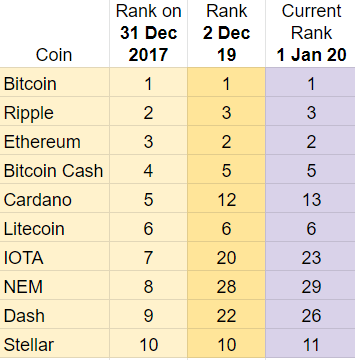 For the second straight month, there was no upward movement: every crypto either held onto its position or slid. Stellar, Cardano, and NEM, each dropped a position, down to #11, #13, and #29 respectively.
December was not kind to IOTA and Dash: IOTA fell three spots to #23 and Dash dropped four positions to #26.
December Winners – Bitcoin pretty much broke even, down only -2% in December. Second place goes to Bitcoin Cash, down -6%.
December Losers – For the second month in a row, I'm going to have to give the loss to Dash. Although it virtually tied with IOTA and Dash (both down -21%), Dash also reached a new low, settling down at #26. A reminder: since January 2018, Dash had never ended a month in last place until last month.
For those keeping score, here is tally of which coins have the most monthly wins and losses after two years of the 2018 Top Ten Cryptos Experiment. Most monthly wins (6): Bitcoin. Most monthly losses (5): Stellar. All cryptos have at least one monthly win and Bitcoin now stands alone as the only crypto that hasn't lost a month.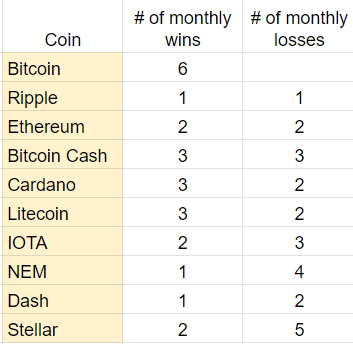 FINAL RESULTS after tracking this group through 2018 and 2019: Bitcoin is well in the lead, followed distantly by Litecoin, then Ethereum. NEM and Dash are the worst overall performers.
Although down -46% since January 2018, Bitcoin is still miles ahead of the rest of the field. Litecoin and Ethereum are virtually tied at a very distant second place down -81% and -82% respectively.
That's what victory looks like for the Top Ten 2018 batch of cryptos.
If that's victory, what's defeat?
NEM has performed the absolute worst, down -97%. in two years. My initial $100 investment is now worth $3.47.
But NEM is by no means alone at the bottom: 60% of the cryptos that started 2018 in the Top Ten are down at least 90%: NEM, Cardano, Dash, IOTA, Ripple, and Bitcoin Cash.
As you'll see on the chart above, 50% of the cryptos that started 2018 in the Top Ten have dropped out, specifically NEM, Dash, IOTA, Stellar, and Cardano. They have been replaced by EOS, Binance Coin, Tether, Tezos, and BTCSV. Three coins (NEM, Dash, IOTA) have dropped out of the Top Twenty and one (NEM) is in danger of dropping out of the the Top Thirty. Quite a fall in two years.
Of note, with the exception Cardano, the Top Five cryptos have more or less stayed put over the course of the twenty-four month experiment. Also of note: Litecoin has maintained perfect consistency, ending 2017, 2018, and 2019 glued to the #6 position.
For extra credit, does anyone remember which crypto finished 2018 in the lead?
Answer – Stellar.
Probably not what you were thinking, huh?
Total Market Cap for the entire cryptocurrency sector: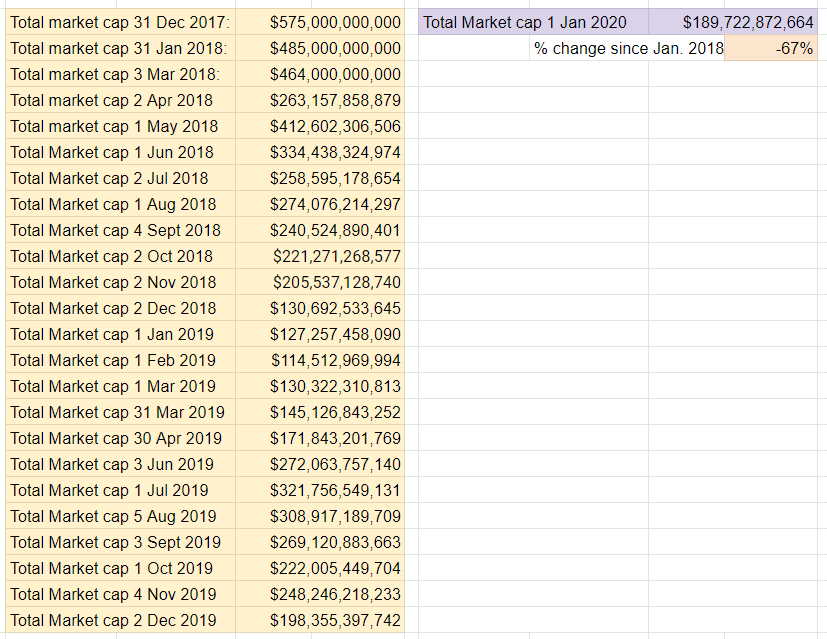 The crypto space lost $9B in December, which isn't much for crypto and nowhere near the $50B which evaporated in November. The overall market cap is now back to the $189B mark, last seen in May 2019. 
Two Year Final Market Cap Figures:
Since January 2018 – the total market cap for crypto has dropped -67%.
Since January 2019 – the total market cap for crypto has increased +49%
Worst Month – January 2019 ($114B total crypto market cap)
Best Month – January 2018 ($575B total crypto market cap)
The last time the total market cap reached $500B: January 2018
The last time the total market cap reached $400B: May 2018
The last time the total market cap reached $300B: August 2019
The last time the total market cap reached $200B: November 2019
Bitcoin dominance: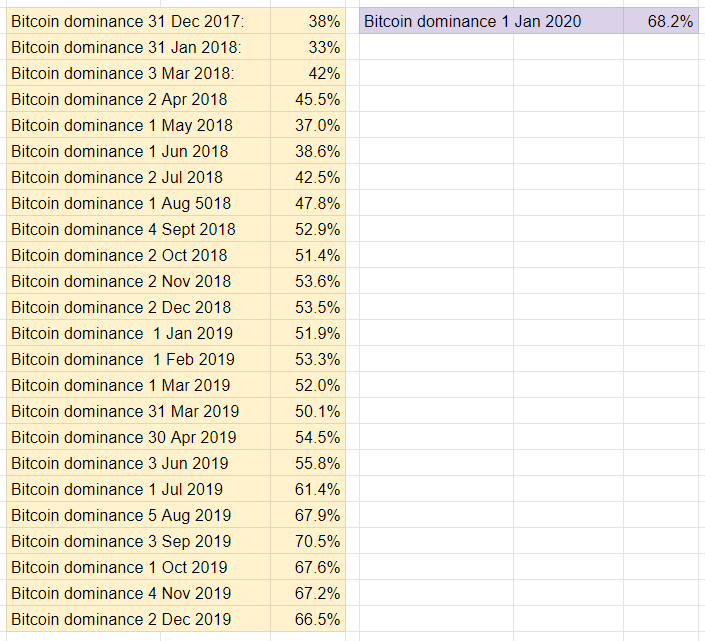 Bitcoin dominance ticked back up in December and ends 2019 at 68%, a level not seen since September 2019 and much higher than 2018's year end figure of 52%.
For context, the range since the beginning of the experiment in January 2018 has been quite wide: a high of 70% in September 2019 and a low of 33% in February 2018.
Overall return on investment since January 1st, 2018:

After an initial $1000 investment, the 2018 Top Ten Portfolio is worth $136, down about -86% in two years.
Although the overall market ended 2019 stronger than the year before, the 2018 Top Ten Experiment cryptos finished at more or less the same level: last year the portfolio recorded a -85% loss and was worth $152.
Lowest 2018 Top Ten portfolio value: January 2019 ($122)
Highest 2018 Top Ten portfolio value: January 2018 ($792)
The 2019 Top Ten Experiment is doing better, but the year end report will show that group has basically broken even for the year, up a mere +2%. The year end report will be released soon for the 2019 Top Ten.
Taken together, here's the bottom bottom line: after a $2000 investment in both the 2018 and the 2019 Top Ten Cryptocurrencies, my portfolios would be worth $1,153.
That's down about -42%.
Implications/Observations:
Congratulations to Bitcoin which significantly outperformed the rest of the field at the end of the first two years of the 2018 Top Ten Index Fund experiment.
Two years on, there are a few obvious takeaways from the 2018 experiment. Buying at all time highs put this experiment in a difficult position from the start and it has not yet come close to just breaking even. The high point of this experiment was at the end of the very first month (January 2018) where the portfolio was "only" down -20%. I haven't run the numbers, but by eyeballing and with hindsight, it's easy to see that it would have been much better to come in at just about any other time during that first year. The portfolio would still be down, but not like this – not like this.
That said, buying mid-January when prices were even higher would have been worse – hard to imagine considering my Top Ten buys on New Years Day 2018 have seen a -86% drop – but yes, it could have been even worse.
For each of the first twenty-four months, the experiment's focus of solely holding the Top Ten Cryptos continues to be a losing approach. While the overall market is down -67% from January 2018, the cryptos that began 2018 in the Top Ten are down -86% over the same period. This of course implies that I would have done a bit better if I'd picked different cryptos.
At no point in the 2018 Top Ten Experiment has this investment strategy been successful: the initial 2018 Top Ten have under-performed each of the twenty-four months compared to the market overall.
There are a few examples, however, of this approach outperforming the market in the parallel 2019 Top Ten Crypto Currency Experiment.
I'm also tracking the S&P 500 as part of my experiment to have a comparison point with other popular investments options. The S&P 500 is now up +21% since the beginning of 2018. My initial $1k investment into crypto would have yielded about +$210 had it been redirected to the S&P.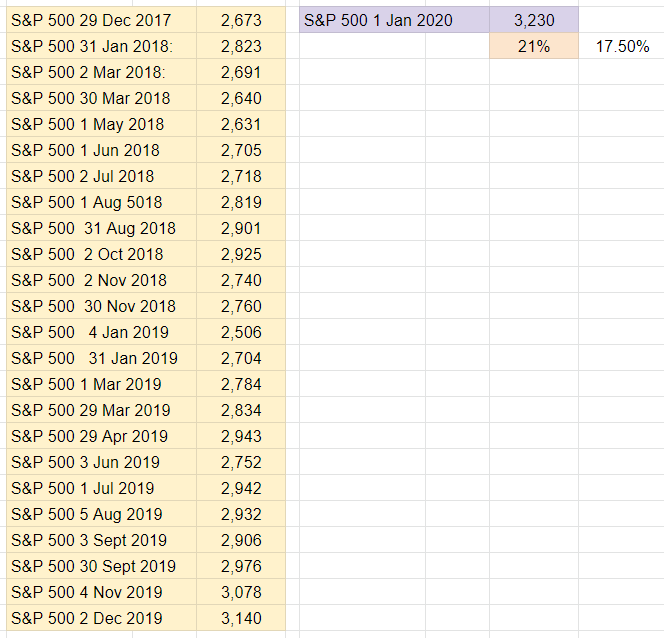 Conclusion:
Although the 2018 Top Ten Experiment cryptos ended 2019 pretty much where they began, the market overall saw some solid gains in 2019. 2018 ended pretty hopelessly as crypto seemed to be in free-fall. 2019 overall felt like a recovery story, as a bottom was reached. With The Bitcoin Halvening due to arrive mid 2020, it should be another interesting year in the crypto space.
Thanks and Future of the Experiments:
Thanks for reading and for supporting the experiment(s). I hope you've found it helpful. I continue to be committed to seeing this process through and reporting along the way. Feel free to reach out with any questions and stay tuned for progress reports. Keep an eye out for my parallel project where I repeated the experiment, purchasing another $1000 ($100 each) of a new set of Top Ten cryptos as of January 1st 2019.
As for the future of the experiment, why not, let's keep this thing rolling:
I'll continue to hold and will report on the Top Ten Cryptos of 2018.
I'll continue to hold and will report on the Top Ten Cryptos of 2019.
I've also decided to repeat the experiment with the Top Ten Cryptos of 2020.
Thanks again and all the best in your crypto adventures!
---
This article contains affiliate links. If you click on a link in this article, I may earn a small commission at no extra cost to you.
Help keep the lights on at the Top Ten Crypto Index Fund Experiments.
Donate directly:
Bitcoin: bc1qqy4tlwydyrm3sjpyyq88es0cu9j9mdvqer3gwv
Ethereum: 0xC04Bc1996320f27c0A6018cB370c9469a9Dd3a4C
ADA: addr1qywnu55t8hpk4c3jf63tj5xywzej0uhwh7yput4u2z3fq7qa8efgk0wrdt3ryn4zh9gvgu9nylewa0ugrchtc59zjpuqlj6stg
XLM: GA5GJ2JDWC3GB3YXEVRBSR7UBLIB2ROIWZ5FEHML5WXGY5N3PAIDEOEA