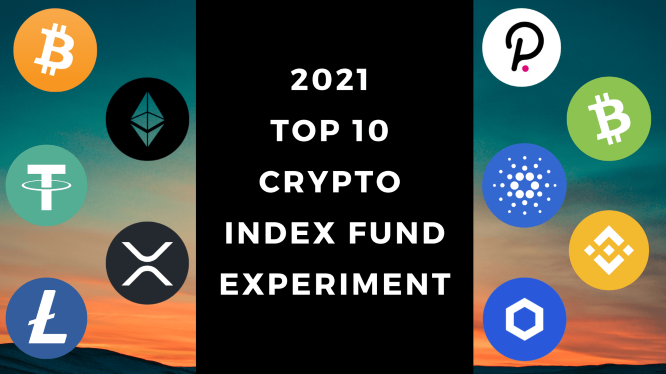 This article contains affiliate links. If you click on a link in this article, I may earn a small commission at no extra cost to you.
---
The 2021 Top Ten Cryptocurrency Index Fund Experiment is a go!
For the fourth New Year's Day in a row, I am happy to announce that I have once again purchased $100 of the Top Ten Cryptocurrencies for 2021.
And the lucky cryptos this year? Here they are in descending market cap order: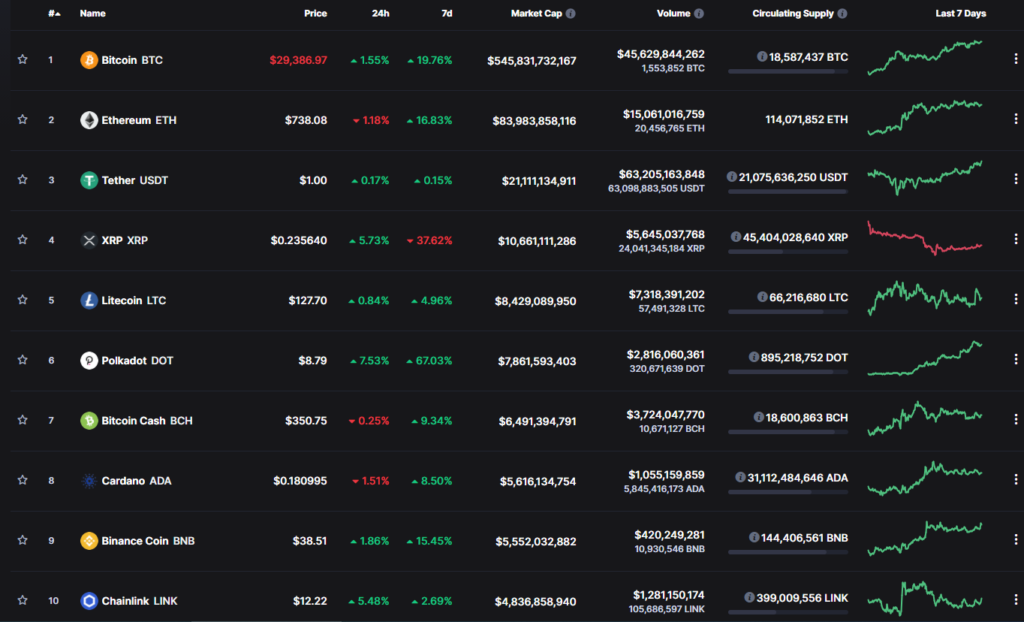 That's a $100 investment, $100 each of #1 BTC, #2 ETH, #3 Tether, #4 XRP, #5 LTC, #6 DOT, #7 BCH, #8 ADA, #9 BNB, and #10 LINK.
I used three different exchanges to make the purchases, so the Coin Market Cap screenshot above doesn't reflect the actual prices by the time I pulled the trigger. Below is what I actually paid:
I used Coinbase Pro to purchase BTC, ETH, XRP, LTC, BCH, and LINK at the prices below:

I used Binance to purchase USDT, ADA, and BNB at the prices below:

And Kraken to purchase DOT at the price below:

Initial observations:
A quick review: after a $3000 investment in the 2018, 2019, and 2020 Top Ten Cryptocurrencies, my combined portfolios were worth $‭5,154‬ ($435+ $2,432 +$2,287) as of the end of November – that's up about +72% for the three combined portfolios
Today's $1k purchase brings the total investment up to $4k since January 2018.
The 2020 Dropouts: BitcoinSV, Tezos, and EOS
The 2021 New Additions: Polkadot, Cardano, and Chainlink
ADA was in the Top Ten in 2018, took a two-year break, and is now solidly back in the Top Ten.
The "Three Year Club" will be upgraded to the "Four Year Club" – this group is comprised of the only Cryptos to be in the Top Ten at the start each of the last four years. They are Bitcoin, Ethereum, Bitcoin Cash, XRP, and Litecoin
Other than that, it was an interesting experience to buy BTC at over $29k after buying at over $13k three years ago.
FAQs
Q: You compare the Top Ten cryptos to the S&P 500. Wouldn't it be more fair to compare the top ten stocks vs. the top ten cryptos?
A: I've thought about this quite a bit (monthly actually, for the last three years): what I'm after is a total crypto vs. total stock market comparison. Tracking the Top Ten Cryptos isn't perfect, but they usually make up about 90% of the total market. If I only tracked the Top Ten S&P 500 by weight, I would only be tracking about 22% of the S&P Index. A more fair comparison is the entire S&P 500, which accounts for 75% of the entire US market.
Still imperfect comparing 90% of one thing vs. 75% of another, but still hopefully close enough to be useful.
Q: You bought Tether? Why?
A: I debated back and forth on whether or not to include Tether for the 2019 and 2020 experiments (Tether is not in the 2018 Top Ten). At the end of the day, these are snapshots in time, so like it or not, Tether is in the Top Ten. In some ways, this whole experiment is turning out to be much more of a documentary or picture of a particular time in crypto rather than an investing strategy.
Plus "Top Ten Crypto Index Fund Experiments Minus Tether Plus Number Eleven" didn't fit on my business card.
I try to be impartial, but no one gets into crypto for stablecoins. I do look back with fondness (and look forward to a future) when stablecoins aren't in the Top Ten.
That said, these are exciting times in crypto. These days you can get some pretty interesting interest rates even on stablecoins, something I may factor in going forward now that I am the proud owner of $300 worth of USDT. I may do a stablecoin spin off experiment, where I report on different interest bearing platforms (Aave vs. Nexo vs. Celsius, for example).
Q: Why bother actually buying all of these cryptos?
A: I found actually having some skin in the game has been motivating and has helped me to complete and share my monthly updates, even when all seemed dark and hopeless.
Q: There's got to be an easier way to get exposure to the entire crypto market, right?
A: Lots of smart people are working on it. For example, check out what they're working on at https://cryptex.finance
Q: How long will you run the experiments/any plans to sell?
A: I'm still enjoying the experience, no plans to sell at the moment.
Q: I hate Coin X, why is it included in the experiment?
A: If it's in the Top Ten on January 1st, it's in the Top Ten Crypto Index Fund Experiment, simple as that.
Q: What about weighting? Or rebalancing? Or selling and replacing a Top Ten dropout coin?
A: Weighting is interesting, but to be beginner friendly, I went for an even 10% allocation when I started three years ago and have kept it up for consistency's sake. Weighting would also lead to the rebalancing question, which is a bit advanced for this experiment. Plus with only $100 investments, fees would eat me alive. Similar to selling dropouts and buying ascending coins. There's so much movement in crypto, not worth the fees.
The first monthly report for the 2021 Top Ten group will drop in early February – and the 2018, 2019, and 2020 will be released in the coming weeks.
In the meantime, you're welcome to pour through all the monthly data here.
Happy New Year and wishing everyone the very best for 2021!
Help keep the lights on at the Top Ten Crypto Index Fund Experiments.
Donate directly:
Bitcoin: 1Pwz1gABZd2jkfFrjSZbJmD3te3dFYjhJo
Ripple: rEVxyudxYfPDFiV9qVZU8m7v2w9vwc4UCj
Ethereum: 0xf1df4ae19e80dd195ac67281598d84C4D6df029f