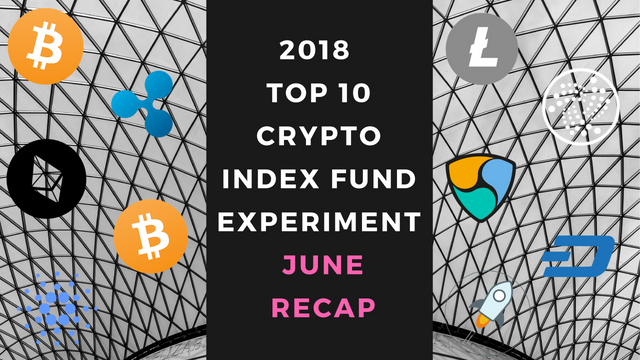 Month Six/Half-time Report – Down 66%

Ouch. June saw the continuation and acceleration of May's downturn. All cryptos included in the experiment fell at least -16% for the month and all remain in negative territory for the year.
June Winners – As we've seen in past downturns, the more well known and established cryptos did the best this month. Bitcoin dominated, down -16%, followed by Ethereum and Dash, both down -23%. A pretty sad state of affairs for crypto in June if both second place finishers shed about a fourth of their value.
June Losers – IOTA got hammered this month, down -44%, followed by Cardano and Stellar and down -39% and -37% respectively. Cardano has had a rough couple of months – it was down -32% in May as well.
Overall update – Ethereum wins first half followed closely by Stellar while NEM fades
Since this report marks the half way point in the year, let's take a second to look at where we started:
The big picture is glaringly obvious – there's been a massive free-fall in the cryptosphere since the beginning of the year. The worst of the worst so far has been NEM down a stunning -82%. NEM has also fallen the most in rank dropping from #8 in January to #17 today and seems to be in danger of falling out of the Top Twenty. Cardano and Ripple had a difficult first half as well, down -79% and -78% respectively.
In terms of bright spots, the title of best performer of the original Top Ten goes to Ethereum (currently down -37% for the year) followed closely by Stellar (down -41%). Interestingly, the first half of 2018 can be seen as a battle between two cryptos: the experiment has clearly shown that each and every month has been won by either Stellar or Ethereum.
In terms of movement, there's actually less than I anticipated. Only NEM and Dash have fallen out of the Top Ten (NEM way down at #17 and Dash at #14) having been replaced by EOS (now at #5) and Tether (currently at #10). EOS is the real story of 2018. It hasn't gained tons in value but the fact that the price is up at all in the sea of red has resulted in a move from #12 at the beginning of the year to the #5 spot now. I guess I should have done a Top Twelve experiment instead!
Total Market Cap for the entire cryptocurrency sector: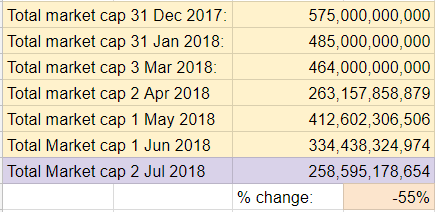 June saw the total market cap shrink by approximately $75B. As painful as it felt, this is about the same as was lost in May and no where near the amount lost in March. Overall, from January 1st, the market has lost -55% or about $317B in value.
Bitcoin dominance: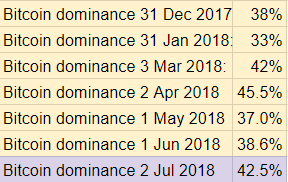 Bitcoin dominance is fairly easy to predict. As we've seen, when the overall market declines Bitcoin dominance increases as people presumably move from their alt coin positions into the more stable and well established projects. It was no different this month: Bitcoin dominance increased significantly from 38.6% to 42.5% in June.
Overall return on investment from January 1st, 2018:
My $1000 initial investment is now worth about $340, down -66%. This is the low point so far this year, slightly worse than March.
Implications/Observations:
I think many thought (or hoped) that March signaled a bottom in the crypto space. Although June has been rough (we saw many new record lows for 2018) it's important to point out that the end of the month has seen a bit of a bounce and that the total market cap is currently right around where it was in March. Not great news, but at least we're not significantly lower than we were n March.
As chaotic as the cryptocurrency market can appear, this experiment has exposed some patterns. When the market drops, money predictably flows back into more well established and well known cryptocurrencies. Without exception the individual months have been won by either Ethereum or Stellar which have come out on or near the top of the original Top Ten all year long.
And, of course, focusing solely on holding the Top Ten continues to be a losing strategy. While the overall market is down -55% from January, the cryptos that began 2018 in the Top Ten are down -66% over the same period of time. This approximately 11% differential continues to widen as the year progresses. At no point in the experiment has this investment strategy worked: the initial Top Ten continue to underperform compared to the market overall.
I'm also tracking the S&P 500 as part of my experiment to have a comparison point with other popular investments options. Up only about 1.7% for the year, it's not even keeping up with inflation – but much better than being down -66%!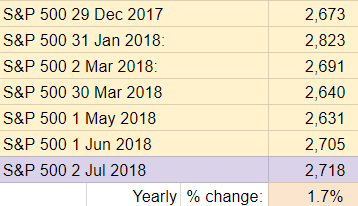 Conclusion:
In a word, the first half of 2018 has been…painful. Have we seen the true bottom? Let's see if the second half of the year will be better than the first half. The bar has been set extremely low, it shouldn't be that difficult!
Thanks for reading and the support for the experiment. I hope you've found it helpful. I continue to be committed to seeing this process through and reporting along the way. Feel free to reach out with any questions and stay tuned for progress reports.
What do you think about the way the market is going this year and when (if ever) do you think we'll see a proper bull rally? Is July the month things turn around?
---
Help keep the lights on at the Top Ten Crypto Index Fund Experiments.
Donate directly:
Bitcoin: bc1qqy4tlwydyrm3sjpyyq88es0cu9j9mdvqer3gwv
Ethereum: 0xC04Bc1996320f27c0A6018cB370c9469a9Dd3a4C
ADA: addr1qywnu55t8hpk4c3jf63tj5xywzej0uhwh7yput4u2z3fq7qa8efgk0wrdt3ryn4zh9gvgu9nylewa0ugrchtc59zjpuqlj6stg
XLM: GA5GJ2JDWC3GB3YXEVRBSR7UBLIB2ROIWZ5FEHML5WXGY5N3PAIDEOEA